Northeast Florida > Duval County Real Estate > Jacksonville Real Estate
Homes For Sale in Jacksonville FL
About Homes For Sale in Jacksonville FL
Jacksonville is the largest city in Northeast Florida. It's also the largest city by land mass in the continental U.S. We have a variety of homes, condos and townhomes for sale. We are unique in that we have the St. Johns Riverfront, Intracoastal Waterfront and Oceanfront. Also, we have plenty of land to allow for new construction at affordable prices. Contact us to get a Jacksonville Realtor with decades of experience to help you navigate the home buying process.
Jacksonville Real Estate Statistics
Total Listings:

1,189

Average Price:

$436,917

Highest Price:

$7,850,000

Lowest Price:

$24,800
Jacksonville Homes For Sale
| | | |
| --- | --- | --- |
| All Listings | Under $100,000 | $100,000 - $200,000 |
| $200,000 - $300,000 | $300,000 - $400,000 | $400,000 - $500,000 |
| $500,000 - $600,000 | $600,000 - $700,000 | $700,000 - $800,000 |
| $800,000 - $900,000 | $900,000 - $1,000,000 | Over $1,000,000 |
Save Search

Click on a neighborhood/city below to learn more about that area and see the different properties available:
Which Way Are Jacksonville Real Estate Prices Headed?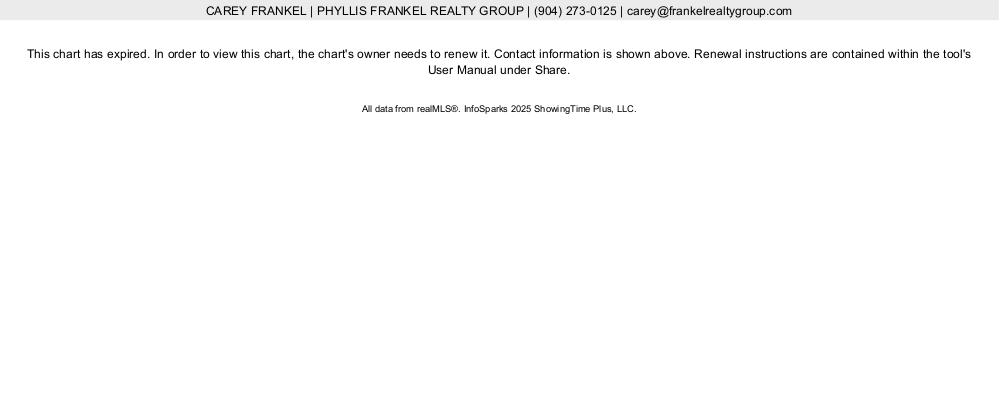 An upward trend line in the chart above means Jacksonville real estate values are going up. And vice versa...

Jacksonville Homes For Sale
Jacksonville's spacious city layout nicely complements its beautiful coastal setting. Scenic Jacksonville is the largest city in the United States in terms of land area, and is the 40th largest city in the world in terms of area! With a city that size, there are literally thousands of Jacksonville Florida real estate homes for sale, condos for sale and one of them can easily be yours.
Jacksonville is divided into five major sections: Southside, which refers to land between the Intercoastal Waterway and the St. John's River; The Beaches which is everything east of the Intracoastal Waterway, St. Johns County which runs through S. Augustine, Northside, which includes everything east of New Kings Road and north of the river; and Westside, encompassing land west of New Kings Road, and south of the river. More detailed description is given in the Duval County and St. Johns County tables below.
Jacksonville, Fl consisting of Duval and St. Johns County
Best Areas to Live In in Jacksonville FL
That's not an easy question. Because it depends what you are looking for. Lets break it down for you...
Best Areas to Live in Jacksonville FL for the Beach
Well that's easy. It's the Beach. We have Atlantic Beach, Neptune Beach, Jacksonville Beach, Ponte Vedra Beach. And if you would consider a bit of drive to Jacksonville then you have South Ponte Vedra Beach, Vilano Beach and St. Augustine Beach FL.
What you would consider the "Best Beach in Jacksonville FL" depends on what you are looking for.. For Condos the Best Beach in Jacksonville is Jacksonville FL because that is where the most condos are. For Country Club living the Best Beach in Jacksonville FL is Ponte Vedra Beach. For a quiet more scenic area the Best Beach in Jakcsonville FL is Atlantic Beach and South Ponte Vedra Beach.
Best Areas to LIve in Jacksonville FL For Walkability
Hands down the best place for walkability in Jacksonville is Riverside. After that you should consider San Marco and Atlantic Beach FL.
Best Areas to Live in Jacksonville FL For City Core
If you like charming areas with historic appeal then you should check out the "City Core" area. You have San Marco on the Southbank. You have Springfield on the Northbank. And you have Riverside and Avondale on the Westbank. Our downtown area is mostly commercial with few residential areas. So that is why the areas just over the river are popular neighborhoods.
Best Areas to Live in Jacksonville FL for Convenience to Everything
The best area in Jacksonville that is convenient to everything would be the Southside and the Intracoastal West area. These areas are minutes to the Beach and the St. Johns Town Center via Butler Blvd (our East West Highway). Along Beach Blvd, Atlantic Blvd and Southside Blvd you have plenty of choices for shops, restaurants, grocery stores & more.
Best Areas to Live in Jacksonville FL for lower property taxes
This is a trick question! Jacksonville is made of Duval County which has higher property taxes than St. Johns County. So if you would consider a little more of a commute and a more suburban feel then you should consider St. Johns County with lower property taxes.
Where Florida Begins

Jacksonville's motto is "Where Florida Begins." Located at the north-eastern corner of the state, and only 25 miles from Georgia, the city was named for Andrew Jackson. Jackson may have been the 11th President of the United States, but he had his political beginnings as the military governor of the Florida territory.

Life in the Subtropics

Enjoy Jacksonville's subtropical climate from your Jacksonville real estate. Lovely mild winters with spicy hot summers make for year round enjoyment. During the summer, gorgeous thunderstorms light up the afternoon sky on a nearly daily basis. The winter is mildly cold, yet few nights drop below freezing. In addition, Jacksonville is protected from many of the Florida hurricanes, which are a rarity in this area.
See homes for sale and area information from the Duval County area of Jacksonville.
Spread across more than 841 square kilometers, the city offers a wide selection of properties for sale, from luxury Southern estates to affordable single family homes and condos.
Quality of Life in Jacksonville
Here are some reasons the Jacksonville area has become one of the hottest real estate markets in the nation:
Nationally ranked top ten schools and a choice of a number of higher education schools.
Vibrant arts and cultural community with performances by world re-known artists, Broadway plays, diverse choice of museums and galleries, a Symphony Orchestra, a popular annual independent film festival, and the nation's second largest annual Jazz Festival.
Active sport scene with a National Football League Franchise, a Minor League Baseball franchise, a Southern Professional Hockey League Franchise, and a United Soccer League franchise. The city also hosts the annual Gator Bowl Game, known as the "World's Largest Cocktail Party", and is home to the World Golf Hall of Fame.
Jacksonville has the largest Urban park system in the United States!
A brand new open air mall called The St. Johns Town Center.
Top notch medical/heath facilities including the world renowned Mayo Clinic.
Ranked among the "top ten best places to live" by Money magazine.
2005 3rd Quarter report from ACCRA list the area's composite cost of living is 92.7 percent of the national average and housing at only 86.1 percent of the national average - one of the lowest in Florida!
Important center for finance, insurance and commerce on the Southeast Coast.
Duval County Areas
SW Duval County
St. Johns County Areas
Are More Homes Coming On The Market in Jacksonville?
An upward trend line in the chart above indicates more real estate is coming on the market in Jacksonville. And vice versa... A long term increase in supply of homes will have a negative effect on appreciation if it pushes the absorption rate above the 6 month level.
How Long Do Homes Stay On The Market in Jacksonville?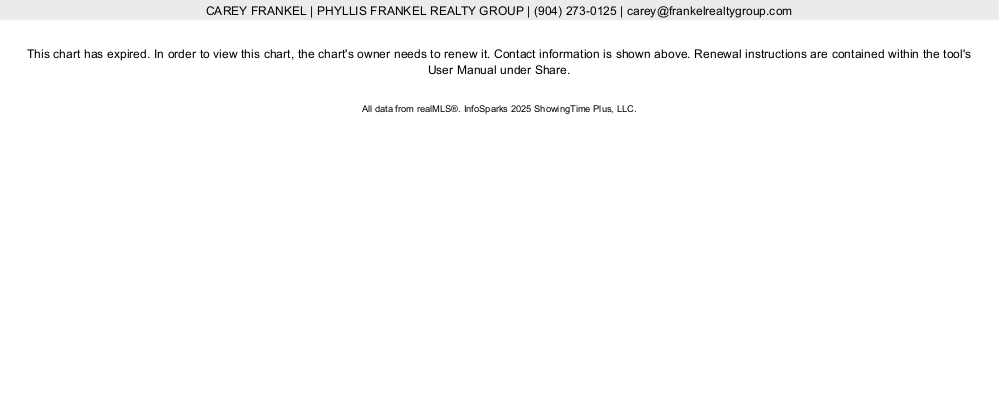 As you can see from the chart above homes in Jacksonville don't stay on the market long. A steady trend upward would indicate a slowing in the market. And vice versa...
How Close to List Price do Jacksonville Homes Sell?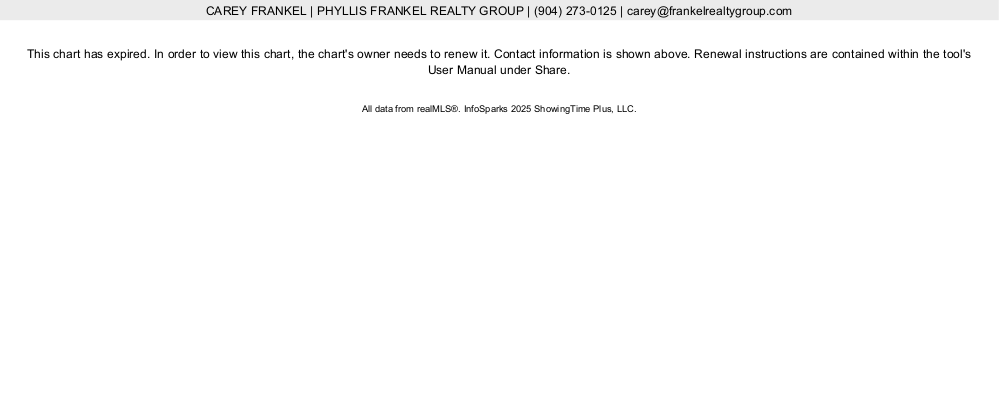 As you can see from the chart above home in Jacksonville sell relatively close to list price. A steady increase in the sale to list price ratio would indicate a hot market and prices to rise in the future. And vice versa with a steady decrease in the sale to list price ratio.
Please contact us if you have any other questions about the Jacksonville real estate market.
Nature Lover's Paradise
Jacksonville is popular with nature lovers for its immense parks system, which covers more than 80,000 acres, and 337 green spaces. A number of beautiful State and National parks also border Jacksonville to the east, including Fort Caroline, Little Talbot Island, and Nassau Sound. With its beautiful coastal river setting, accesible real estate market, and diverse economy, it's no wonder many consider Jacksonville the best place in Florida to call home.To set up a home showing anywhere in Jacksonville, please contact us today.
It's a Great Place. But is it Good for Business?

Jacksonville is one of the best places for business!
It's one of the Top 50 Logistics Cities in the U.S.
It's one of the Top 10 Best Cities to Find a Job.
It's one of the Top 5 states on a Tax Foundation study of business-friendly tax climates.
It's one of the Top 3 U.S. organizations for "Leadership and Innovation" in economic development.
It was the leading market for business growth in the South during 2006.
It is one of the Top 10 "Hottest Cities" that will lead job growth through 2015.

All in all, if you own a business, want to start a business, or just want to work for a business, Jacksonville is the place for you! Of course, Jacksonville real estate agents can tell you more about the different areas of the city so that your relocation planning goes easier.

I'm Almost Convinced! Tell me more!
Jacksonville's International Airport offers 106 daily non-stop flights, going to over 27 cities.
Construction costs in Jacksonville average 20% less than other US cities, meaning that you can afford a larger home.
Jacksonville is considered one of the Top 10 Cities for Relocating Families.
Jacksonville is growing rapidly and salaries are keeping pace with the expansion.
Jacksonville has two of the best rated school districts in America! St. Johns County is an "A" rated performed, and Duval County offers some of the nation's most innovative schooling programs.
The average home is less than $270,000.
All this Business is Wearing Me Out; I Just Want to Relax!

If it is relaxation you have in mind, just ask your Jacksonville Real Estate Office to find you the best homes built with relaxation in mind! They can show you all the amenities. Whether you want a marble foyer or Spanish villa, they can find it for you in Jacksonville. And after you're all moved in, check out our outdoor recreation. Sail on the St. Johns River. Go fishing. Get out your camera and prepare for the sights. Whether you're looking to memorialize a record-breaking fish fry or a sizzling bikini, Jacksonville has the sights for you.

What About the Kids?

With some of the best schools in America, you won't need to worry about your children's education. A great family activity is browsing through one of the many great libraries available in Jacksonville. And if outdoor activities float your boat, consider the many great recreation programs available for families in the Jacksonville area.

I LOVE Jacksonville!!!
Then call your local Jacksonville area realtor, and let's get started! Your realtor will listen to you describe your lifestyle, discuss your housing needs, and help you find financing. Your realtor will be glad to show you houses, town homes and condos until you find that one special place that says "home" to you. Call your realtor - your new home's waiting in Jacksonville!

For more information, to view homes or if you have real estate questions please contact your Jacksonville Realtor at (800) 999-0245 or locally at (904) 273-0125. Or leave us a message ...
©2021 Northeast Florida Multiple Listing Service, Inc. All rights reserved.
Listing information last updated on October 23rd, 2021 at 10:38pm EDT.