Northeast Florida > Duval County> Jacksonville > Southeast Duval County > Southside | Intracoastal West > Southside Real Estate
Southside Jacksonville FL Homes
Southside Jacksonville Homes For Sale


Southside South of JTB Popular Communities - Baymeadows/Deerwood
What's your home worth?
Get a FREE Comparative Market Analysis in today's market.
Southside North of JTB Popular Communities - Tinseltown & St. Johns Town Center

Centrally located, the Southside is bordered by Arlington to the north, St. Johns County to the south and San Marco and I-95 to the west. This is the southernmost area of urban Jacksonville and is in the middle of all other Jacksonville communities and therefore is a popular spot. Southside has the area's largest grouping of condo communities but also a burgeoning center for shopping and entertainment. Many new developments are less than a year old. Commuting, shopping and recreation are convenient with 9A opening access to many other areas and the St John's Town Center offering award winning shopping and dining. Housing includes single-family homes, condominiums and apartment complexes. Residents enjoy local golf courses, abundant dining and entertainment, and easy access to the Beaches via J. Turner Butler Boulevard and Beach Boulevard.
Southside Real Estate in Jacksonville Florida of Duval County
Encompassed within the "Southside" is the area of Jacksonville between I-95 all the way east to the Intracoastal Waterway. Zip codes 32246 and 32224 are located in the Southside area. Southside is the hub of Jacksonville with the most popular shopping areas and nightlife Jacksonville has to offer. In fact, this area has probably the most restaurants, shopping centers, and office space in all of Jacksonville. Two of Jacksonville's newest shopping malls, the Avenues Mall and the newer St. Johns Town Center, are located in this part of town. In addition, you have the Cinemark Tinseltown area, a megcomplex movie theater surrounded by some of the most popular restaurants and night life enterntainment in Jacksonville.
Housing in Southside includes many condominiums and multifamily homes. These range from apartment conversions to new upscale, amenity rich construction. Cost for single family homes range from $300,000 in one of Southside's new neighbhorhoods to over $1 million for a home in Deerwood Country Club.
Southside: The Center of Jacksonville
Southside Jacksonville Property and Housing
The average cost of a single family home in Southside Jacksonville is $299,400.00. With many multifamily homes and condominiums, homes for sale in the area vary widely with regard to style, architectural design, features, and price. Some of the newly constructed neighborhoods are very upscale with fabulous amenities. You can find homes over $1 million that are worth every penny. If you are on a less extravagant budget, you can easily find real estate in Southside Jacksonville for under $200,000. Renters make up only 28.32% of Southside's zip code 32246 and 39.87% of the 32224 area.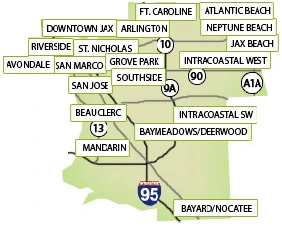 Public Transportation
If you are one of the many Americans who are "going green" or if you just need a ride, the Jacksonville Transport Authority, or JTA, offers many solutions to get you where you need to go. There are trolleys and reliable bus service readily available in the area for those who need or want to use it.
Search Southside Homes for Sale
Medical Care
Doctors and hospitals are an important part of any community, and Southside Jacksonville, Florida is no different. From the Memorial Hospital Jacksonville to the Mayo Clinic, you will find a caring and qualified group of physicians to take care of your medical needs.
Memorial Hospital Jacksonville - San Pablo (within 3 miles of Southside Jacksonville)
14444 Beach Boulevard
Jacksonville Beach, FL 32250
Mayo Primary Care Center
4500 San Pablo Road South
Jacksonville, FL 32224
Employment and Jobs in Southside Jacksonville, Florida
There are several major employers to choose from in the Southside area that are operating in a variety of industries. Here you will find ADT Security Services, Inc., Cintas, Allstate Insurance, Coggin Automotive Group, Chrysler Financial, and more. With a growing job market that predicts nearly 26% in growth over the next ten years, Southside Jacksonville is a great place to call home.

Living In Southside Jacksonville Florida
Many of the benefits to buying Southside Jacksonville Florida real estate are due to the bustling city life experience the area offers to its residents. With homes in just about anyone's price range, a great school district, a never ending list of entertainment and activities, along with a growing job market with several major employers, home buyers searching in this area will be pleasantly surprised at everything Southside Jacksonville has to offer.
Search Southside Homes for Sale
For more information, to view homes or if you have real estate questions please contact your Southside Jacksonville Realtor at (800) 999-0245 or locally at (904) 273-0125. Or leave us a message ...