Nocatee Ponte Vedra Homes For Sale
About Nocatee Ponte Vedra Homes For Sale
City: Ponte Vedra
County: St. Johns County
Zip: 32081
CDD Fee: Yes
Year Built: Started 2007
# of Homes: 15,000 when completed
Home Size: 1152sf - 6040f
Amenities: Nocatee Splash Park, Fitness Center, Tennis, Ballfield, Basketball, Dog Park, Nature Trails and More!
Schools: Ocean Palms Elementary or Valley Ridge Academy, Landrum Middle or Valley Ridge Academy, Nease High School
Nearby: Publix Shopping Center
Real Estate Statistics
Total Listings:

156

Average Price:

$517,641

Highest Price:

$1,334,700

Lowest Price:

$282,000
Ponte Vedra Homes For Sale in Nocatee
| | | |
| --- | --- | --- |
| All Listings | $200,000 - $300,000 | $300,000 - $400,000 |
| $400,000 - $500,000 | $500,000 - $600,000 | $600,000 - $700,000 |
| $700,000 - $800,000 | $800,000 - $900,000 | $900,000 - $1,000,000 |
| Over $1,000,000 | | |
Save Search

Nocatee Popular Property Type Search
Nocatee Popular Subdivisions
Which Way Are Nocatee Real Estate Prices Headed?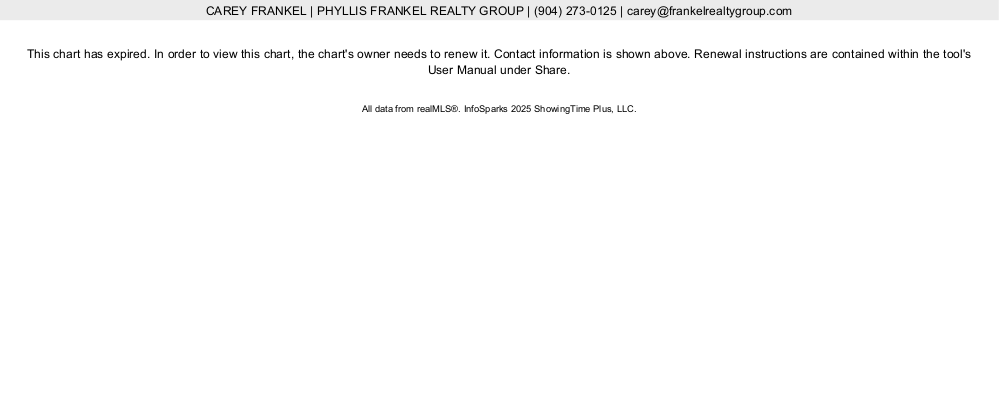 An upward trend line in the chart above means Nocatee real estate values are going up. And vice versa...
Please contact us if you have any other questions about the Nocatee real estate market.
What is Nocatee FL?
Nocatee is a top 5 nationally ranked fastest growing community in the U.S. Nocatee FL is it's own city-village with schools, apartments, office space, parks, pools and more. Even with all the progress that is planned, the developer is leaving over 9,000 acres of beautiful natural preserve, parks, and trails around the various communities. The Nocatee communities and parks are interconnected for walking, biking or golf carts. Elementary school on site and more to come.
Nocatee will eventually have 15,000 homes, condos and townhomes. Inside Nocatee are many, many communities with different builders, lot sizes, views and closeness to amenities. (Yes how close one of the pools are is something you should be considering).
Nocatee New Homes vs. Exisiting Homes
Construction in Nocatee is ongoing. So the list of neighborhood inside Nocatee will keep growing. And because of the length of time Nocatee FL has been under development you are able to compare resale (existing) homes versus brand new, just built homes. This gives you a choice of the many different communities with different views to weigh against the newest trends in paint, flooring, cabinets and counter tops. In our area, there are not many communities where you can compare brand new homes versus existing. So take advantage of this and you will be able to not only buy a better value but get the perfect home for you.
Phyllis Frankel Realty Group Insider Tip: Remember to add up all the items you will find in an existing home that you don't have in a brand new home (that you will have to add later). Then weigh them against Nocatee builder's incentives like credits for closing cost, design center and more! Then factor inside resale value for the communities' characteristics like nearby amenities, nearness to beach or Nocatee Expressway, lot size and views. Only then can you get a true picture to evaluate the homes and decide the best one for you. Or just ask us. This is what we will be focusing on when showing you Nocatee homes.
Nocatee is in Duval and St. Johns County
The majority of Nocatee is in St. Johns County (Ponte Vedra 32081) but a small portion (around 15%) falls in Duval County (Jacksonville 32081). Located between Jacksonville and St. Augustine in Ponte Vedra FL which is just west of Ponte Vedra Beach (the intracoastal waterway is the dividing line) and just east of St Johns FL (US-1 is the dividing line).
Nocatee Zip Code
As previously stated, Nocatee is in Ponte Vedra FL but in both Duval and St. Johns County. That being said, Nocatee's zip code is 32081. That is the only zip code we have seen being used. We have seen Duval County Nocatee mail be addressed to Nocatee Jacksonville FL, Nocatee FL and Ponte Vedra FL. But as long as they are using the zip code 32081 then it should be ok. This would apply to the Duval County Nocatee Communities: Brookwood, Cypress Trails, The Palms and The Villas. The schools for these neighborhoods will be Bartram Springs Elementary, Twin Lakes Middle and Atlantic Coast High School.
Phyllis Frankel Realty Group Tip: The main concern is if you are trying to be in the St. Johns County School System then you shouldn't be considering Cypress Trails Nocatee in Duval County. Also all of Nocatee goes to Nease High School not Ponte Vedra High School. So if you want Ponte Vedra High School then you need to look east of the Intracoastal Waterway in Ponte Vedra Beach (Please check next years School zoning to see if this will be changing).
Nocatee Communities Homes For Sale
Nocatee has taken some of its design from the community concept of the village. Each village or community cluster has a style of homes complementary to each other, with a common area for gatherings.
The Original Nocatee Communities are:
Austin Park: Jacksonville Traditional, Spanish, Tuscan, Mediterranean, Craftsman style single family homes. Builders include Taylor Morrison for concrete block homes.
Coastal Oaks: luxury estate homes, neo-traditional, town homes and single family cottage/village style. This community is exclusively built by Toll Brother homes.
Riverwood: designed with the active 55 and onward adult in mind. Patio homes (smaller lots) with yard maintenance included. This community is exclusively built by Del Webb.
The Palms: quaint and cozy single-family and town homes, with an emphasis on the natural wetlands and wildlife surrounding the community.
Tidewater: the highly anticipated condo community on the edge of Town Center with easy access to the beaches. The young professional or an active couple would have the best of all worlds, as it will also be in close proximity to the new business complex going into the Town Center. This community was exclusively built by Pulte. These are the only Nocatee condos for sale you will find in Ponte Vedra FL.
Willow Cove: Traditional single-family homes with the active family in mind. Near Town Center and the planned water park. Close to the amenities center. Easy access to activities for the whole family. Woodland and lake views. Built by Lennar Homes and David Weekly Homes.
These communities are some of the first communities of Nocatee. So if you want a newer home and don't want the construction happening on your street then you should definitely check out these neighborhoods. You will have the added benefit of buying a home for sale in Nocatee that already has blinds, upgraded flooring, extra shelving, extra landscaping and more. You will know exactly what you are getting instead of waiting for a home to be built.
Two communities that stand out as unique are Coastal Oaks and Riverwood by Del Webb. Coastal Oaks is of of Nocatee's gated community and has some of the highest priced homes in Nocatee. Riverwood is a 55+ Del Webb Community (age restrictive). Please contact us if you would like to find out more about either Nocatee Neighborhood.
Newer Communities in Nocatee:
Greenleaf Lakes: Large single family home community with multiple builders and floorplans. Located on the western side of Nocatee which is close to the Valley Ridge Academy. Builder in Greenleaf Lakes include Mattamy, Standard Pacific and Providence.
Greenleaf Village: Sister community to Greenleaf Lakes which is similar in design. Located on the western side of Nocatee which is close to the Valley Ridge Academy. Builder in Greenleaf Lakes include Mattamy, Standard Pacific and Providence.
Greenleaf Preserve: Small gated community built by ICI homes with Mediterranean theme including tile roofs. Located on the western side of Nocatee which is close to the Valley Ridge Academy school.
Kelly Pointe: Smaller community of 176 homes built by Richmond American, David Weekely and Mattamy Homes. Located on the northside of Nocatee.
Lakeside: Key West Style neighborhood on low maintenance lots built by David Weekely, Mattamy Homes & Lennar Homes. Located at the Town Center for walking to shops, stores & amenities.
Siena: Mediterranean style neighborhood on low maintenance lots with tile roofs built by ICI Homes. Located at the Town Center for walking to shops, stores & amenities.
The Enclave: Low maintenance living on smaller lots with an emphasis on easy living. Located at the Town Center for walking to shops, stores & amenities.
Twenty Mile Village: 10 separate communities: Twenty Mile Village Park, Twenty Mile Grove, The Pointe at Twenty Mile, The Island at Twenty Mile, The Crossing at Twenty Mile, The Outlook at Twenty Mile, The Junction at Twenty Mile, The Hammock at Twenty MIle, The Vista at Twenty Mile and The Ranch at Twenty Mile. Nearby Twenty Mile Park has the 2nd pool in Nocatee. The Pointe, The Hammock, The Island and The Vista have some of the largest lots & homes in all of Nocatee. In fact, they define the new "Luxury Homes of Nocatee" with custom builders and lot size.
ICI Homes Nocatee
ICI Builders is a popular custom home builder that has built in Jacksonville, Ponte Vedra Beach and St. Augustine FL for many years. In Nocatee, ICI built Greenleaf Preserve. Currently they can be found in Siena at Town Center with mediterranean, low maintenance homes in the center of Nocatee and The Outlook at Twenty Mile.
Nocatee School Zoning For Students
All Nocatee homeowners are zoned for Nease High School. This will be true until the new high school is built.
The Western Nocatee Communities' elementary and middle school are zoned for the Nocatee School, Valley Ridge Academy. The communities include Austin Park, Greenleaf Preserve, Greenleaf Village, Greenleaf Lake and Willow cove.
The Eastern Nocatee Communities' current elementary and middle school are the Ponte Vedra Beach Ocean Palms Elementary School and Landrum Middle School. This should change for 2018-2019 when a new elementary school in Nocatee will go online. The communities include: Addison Park, Coastal Oaks, Enclave at Town Center, Kelly Pointe, Lakeside at Town Center, Siena at Town Center, Tidewater, The Crossing at Twenty Mile, The Hammock at Twenty Mile, The Island at Tweny Mile, The Outlook at Twenty Mile, The Pointe at Twenty Mile, The Ranch at Twenty Mile, The Vista at Twenty Mile and the Tenty Mile Village.
The Duval County Nocatee Communities: Brookwood, Cypress Trails, The Palms and The Villas schools are Bartram Springs Elementary, Twin Lakes Middle and Atlantic Coast High School.
( Please note school districts are subject to change. And new schools are being built so this information is subject to change and should be verified).
Nocatee FL Homeowner Amenities and Parks
Moving to Nocatee Ponte Vedra is all about the lifestyle change. It is a large planned residential community located far away from the hustle and bustle of big city life. It is your "resort" away from work. You will find over 300 acres of parks in the various community including playgrounds, ballfields and picnic area. And the main attraction is the Nocatee Community Park with it's own water park with children's splash pool, lazy river, high speed waterslide and zip line. Plus there is a fitness facility, tennis and basketball court. Just to be clear. There are parks and amenities located at each community for the use of all residence (except the gated communities like Coastal Oaks) and the main amenity center where the splash park is located.
Living in Nocatee Ponte Vedra FL
Living in Nocatee is a dream come true. The abundance of outdoor parks and trails makes spending the day outside one of many choices. Should you go to the pool and swim around the lazy river? Should you call your friend and play a game of tennis, basketball, volleyball, soccer or softball? What about a brisk power walk around the trails? Or give fido some excercise at one of the dog parks? And don't forget a quick work out at fitness center or a couple laps at the exercise pool. Want to be on the water? Take your kayak to launch on the intracoastal. Or upgrade to a jet ski if you want some real speed.
Fitness classes include cardio, tone & core class, noon yoga, flow yoga, barre class, 5:30 sweat class, power pilates & more!
There is literally something for everyone.
But that is not even considering all the planned events that the social coordinator has planned! From adult comedy night, to Nocatee a Glow holiday light parade, New Year's Eve celebrations, Easter Egg Hunts, Movie Night at the Splash Park, Food Truck Friday, Coffee House Series, Beer Tasing, Men's Poker Night, Karoke night and more!
In fact, there are Nocatee clubs set up just so you can meet your neighbors and make friends if you are new to the area: 40+ Mom, Basketball Club, Beer Lovers, Bookworms, Business Professionals, Gentlemen's Reading Club, Cycling Group, Mster Swim Club, Motorcycle CClub, Real Housemoms, Surf club, Soccer Club, Teens Club, Tennis Club top Gear Car club, Triathlon Club, Women's Book Club, Ju-Jutsu Club, Knitting Club and Mountain Bike Club.
Nocatee Golf?
There is not a golf course in Nocatee. There is a practice range off of Palm Valley Rd right outside the community. But there are numerous golf courses all 10-20 minutes away. Going east you have the famous Stadium Course at the Sawgrass Players Club plus The Valley Course and the Ponte Vedra Golf and Country Club. You also have Sawgrass Country, Marsh Landing and the golf course at the Ponte Vedra Inn & Club. Going west you have the St. Johns Golf & CC, South Hampton Golf Course and Cimmarone Golf Course. And then if you head south you have Palencia Golf & Country Club and the two golf courses at the World Golf Village.
So no you don't have a Nocatee Golf Course. But you have many golf courses right at your finger tips.
And even thought you don't have a golf course, Nocatee is an approved golf cart community. So you will see plenty of golf carts zipping around to the store and amenity centers. After all, it is Florida.
Nocatee Home Builders
The list keeps on growing. Here is a current list of home builders that are building or have built in Nocatee. Please note the home builder may be building in multiple communities in Nocatee.
Tollbrother Home Builders
Mattamy Homes
ICI Homes
Dreamfinder Homes
Lennar Homes
Standard Pacific Homes
Pulte Home Builders
Providence Home Builders
Glen Layton Homes
Pineapple Corp
Dostie Homes
Taylor Morrison Homes
Nocatee Del Webb
Nocatee CDD Fees
Nocatee is a CDD fee develpment. CDD stand for community development district. The fee refers to the bond that was taken out to develop the amenities and the infrastructure along with the maintenance of these items.
Most new home communities in St. Johns County have a CDD fee. The CDD fee in Nocatee is not the same for every community in Nocatee. But every community does have a CDD fee. Typically the homes with the smaller lots have a lower CDD fee. Also, Coastal Oaks at Nocatee has a lower CDD fee since you also have a monthly HOA fee to support the gate.
How long do the CDD Fees last?
The typical CDD bond was for 30 years. So these bonds will be expiring in 2039 or 2040 depending on which series bond your particular home was issued. This can be extended or renegotiated. So for most homeowners in Nocatee they will be paying this for the full time they live in Nocatee. However, please note even if you pay off the bond portion (debt) of the CDD owed you will still have the annual maintenance fee of the CDD to be paid. (This covers maintenance of all the amenities in Nocatee like the parks, splash park, fitness center, etc.) We have seen the maintenance portion of the CDD fee be approximately $500-$700 per year in other communities. So that would be our guess for Nocatee.
Phyllis Frankel Realty Group Insider Tip: There are some homes that have about half or less of the standard Nocatee CDD fee. This is because the builder decides to pay of the bond portion of the CDD fee for the homeowner. These are mostly located in Austin Park with the concrete block homes built by Taylor Morrison. But we have seen others.
Are More Homes Coming On The Market in Nocatee?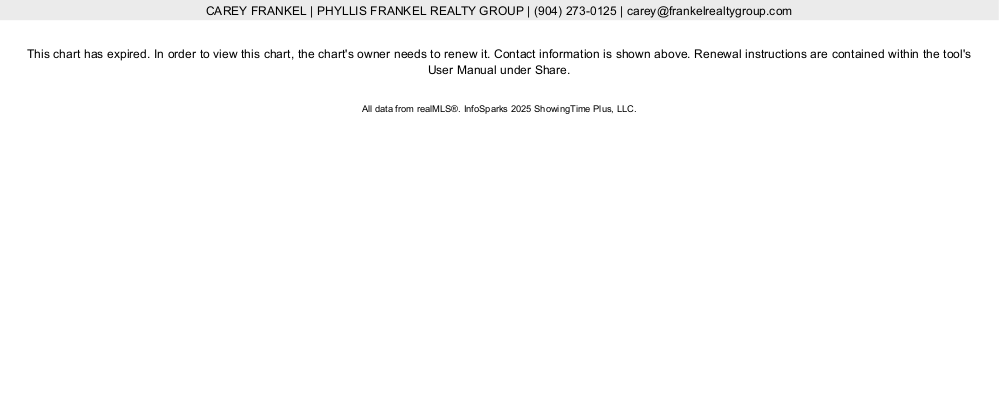 An upward trend line in the chart above indicates more real estate is coming on the market in Nocatee. And vice versa... A long term increase in supply of homes will have a negative effect on appreciation if it pushes the absorption rate above the 6 month level.
How Long Do Homes Stay On The Market in Nocatee?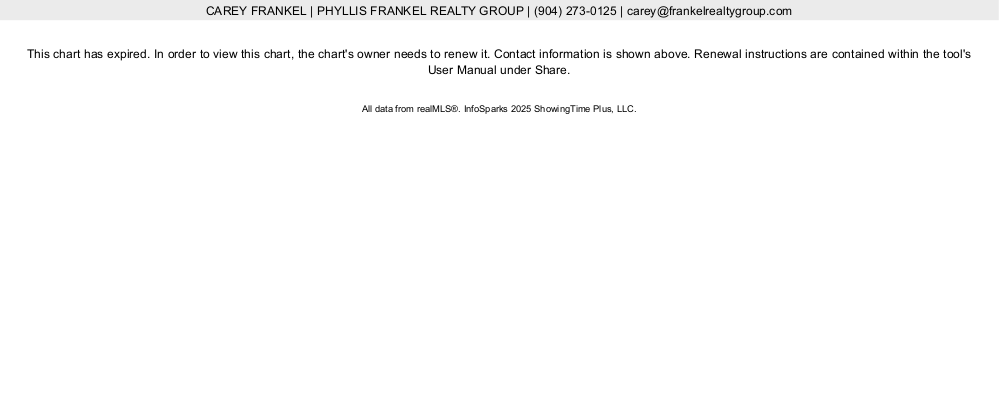 As you can see from the chart above homes in Nocatee don't stay on the market long. A steady trend upward would indicate a slowing in the market. And vice versa...
How Close to List Price do Nocatee Resale Homes Sell?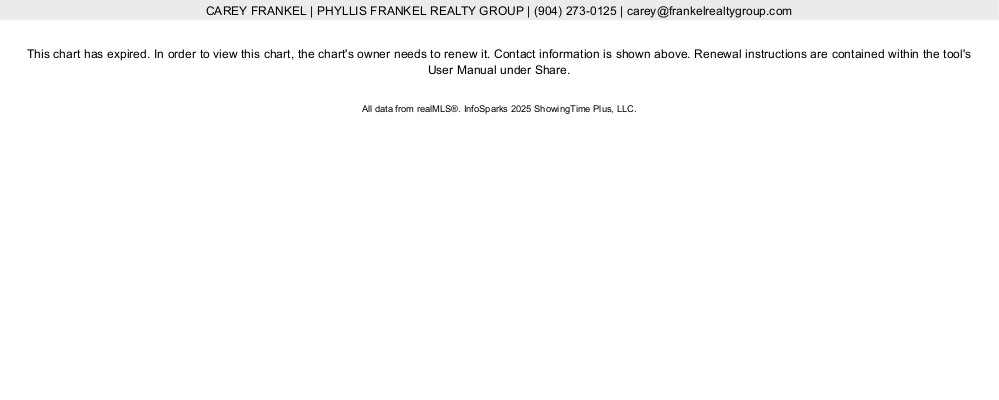 As you can see from the chart above home in Nocatee sell relatively close to list price. I have removed the new construction because those typically sell exactly at list price. A steady increase in the sale to list price ratio would indicate a hot market and prices to rise in the future. And vice versa with a steady decrease in the sale to list price ratio.
Nocatee Florida: School Planning for the Future
A school in the neighborhood? It's not a new idea, but it's still a good one. Neighborhood schools used to be the foundation of the local activities for children and families, and now we are headed back toward that idea again. Nocatee is well aware that children in neighborhoods with a neighborhood school system tend to show improved learning. Children with less disrupted schooling programs flourish.
So with that in mind Nocatee was designed with the elementary, middle and high school all close by. Children can safely walk or bike to and from schools, instead of sitting for hours on a bus. Extracurricular activities are more enjoyable when the family and students are not rushing to make it back and forth from home to work to school all the way across town.
Planned Nocatee Ponte Vedra Building Projects
6 Elementary Schools
2 Middle Schools
1 High School
The other schools currently in planning have the parcels identified, pending ground breaking with the local school district.
New Homes for Sale in Nocatee Communities
With Homes from American Homebuilders, CornerStone Homes, Del Webb, Pulte Homes, Ryland Homes, Providence Homes, ICI Homes, Glen Layton Homes, Standard Pacific Homes, Mattamy Homes, Dreamfinder Homes and Toll Brothers, the selection of custom homes can easily meet your dreams.
A planned community does not mean identical ticky-tacky boxes with the same doors and windows. Individual style, design and taste are taken into account. Traditional to Modern, single family homes to town homes and condos are waiting for you in Nocatee and your Nocatee real estate agent can help you explore them all.
With business and commercial planning, you can live and work within minutes of each other. Walk, bike or save on gas prices with the convenience of a short commute. Be able to spend more time with your spouse, partner, children or just enjoying your life on your own terms, instead of driving for hours.
Ponte Vedra Nocatee Homes: Planned and Growing Community
Planned communities are not a new concept, but a growing town featuring all of the classic elements of a hometown - yet an eye towards the future - is a great place to call home.
Home builders have created a wide range of homes in neighborhoods within the "town" to appeal to all lifestyles - family traditional neighborhoods, country club style homes, recreational areas with trails and paths, and beach oriented homes right against the sea and surf.
Don't forget the "urbanite!" The city center plan calls for not only commercial and business locations, but for homes geared toward those who like to be in the center of things. Condos and town homes have been incorporated into the plan for this community.
The town center plays host to concerts and events for all of the residents from children to seniors. Gracious spaces and planned protection for the natural habitat that the residents become part of make this a town with what it is and what it will be.

For more information, to view homes or if you have real estate questions please contact your Ponte Vedra Realtor at (800) 999-0245 or locally at (904) 273-0125. Or leave us a message ...
Thank you for visiting our Nocatee page to learn more about one of the most popular subdivisions in St. Johns County with newer homes close to the beach!
©2020 Northeast Florida Multiple Listing Service, Inc. All rights reserved.
Listing information last updated on January 28th, 2020 at 6:23am EST.