Northeast Florida > Duval County Real Estate > Jacksonville Beach Real Estate
Jacksonville Beach Homes|Condos
About Jacksonville Beach Homes|Condos
Jacksonville Beach is one of the most active communities at the beach with the widest selection of different housing options. You will find the most condos and townhomes at the beach available at Jacksonville Beach. You also have the prestigious oceanfront homes and many other single family in walking distance to the ocean. Lately we have seen new construction pick up in Jacksonville Beach. So contact us, your Jacksonville Beach Realtor, to learn more about your different real estate options.
Jacksonville Beach Real Estate Statistics
Total Listings:

177

Average Price:

$750,765

Highest Price:

$3,650,000

Lowest Price:

$152,000
Jacksonville Beach Homes For Sale
| | | |
| --- | --- | --- |
| All Listings | $200,000 - $300,000 | $300,000 - $400,000 |
| $400,000 - $500,000 | $500,000 - $600,000 | $600,000 - $700,000 |
| $700,000 - $800,000 | $800,000 - $900,000 | $900,000 - $1,000,000 |
| Over $1,000,000 | | |
Save Search

Jacksonville Beach Oceanfront Condos
Non-Oceanfront Jacksonville Beach Condos
Popular Jacksonville Beach Subdivisions
Jacksonville Beach Homes & Condos For Sale
If you want the ultimate selection of real estate for sale then you should consider the homes, condos and townhomes in Jacksonville Beach. You will find properties at all price levels from attached townhomes and smaller condos popular with first time home buyers to oceanfront estates that serve as someone's vacation home. Jacksonville Beach also features our largest assortment of oceanfront condos. You have a wide variety of choices starting with the older, smaller condos built around 1974 to multi-million dollar luxury oceanfront condos built in the 2000's that are bigger than homes.
A Postcard- perfect Florida community, Jacksonville Beach is nestled east of Jacksonville between the ocean and the Intracoastal Waterway. A land of sandy beaches and palm trees swaying lightly in the breeze treat residents to the experience of relaxed coastal living on a daily basis. Whether you like to fish, swim, surf, boat, play tennis, golf, kayak, or boat, Jacksonville Beach is an ultimate destination.
Jacksonville Beach Real Estate Market
Jacksonville Beach is one of the most popular beach real estate market's in Northeast Florida. This is due to Jax Beach having the most affordable real estate at the beach. You can always find something available no matter your price range with a wide selection of condos, townhomes and homes in all price ranges.
Luxury Homes for Sale in Jacksonville Beach | Oceanfront Real Estate
In Jacksonville Beach nothing says luxury real estate more than our beautiful oceanfront. You have a selection of oceanfront homes and oceanfront condos for sale to choose from. The ultra luxury oceanfront homes will be on Duval Dr with the larger lots on the ocean and continue on to the smaller lots on Ocean Dr. Then you have oceanfront condos ranging from smaller 500sf vacation units to multi-million dollar condos bigger than most homes.

Buying an oceanfront condo in Jacksonville Beach can be made easier using an expert. Knowing which complexes have better resale value. Knowing which complex floorplans are unpopular. Know which condominiums have the heated pools. That is what is going differentiate a local Jacksonville Beach Condo expert and the others. Using the top Jacksonville Beach Realtor to help find your next condo will ultimately save you thousands when it comes to resale your property in the future.
New Construction Homes For Sale in Jacksonville Beach
Jacksonville Beach is largely built out with a lot available here and there. We do have the newer Avalon subdivision as on the largest subdivision around in Jacksonville Beach. But finding a brand new, ready to move into home at any one time is hard due to the lack of supply. You are better off buying a lot and building if you must have new construction in Jacksonville Beach. Some folks have even bought the older homes, knocked them down and then built because they like the location so much.
Townhomes and Condos for Sale in Jacksonville Beach
If this was a contest Jacksonville Beach would be considered both the King and Queen of real estate for condos and townhomes. You have the biggest selection of condos and townhomes at the beach in Jacksonville Beach. Properties located east of A1A and therefore closest to the ocean sell at a premium. This is also true for the first couple of blocks west of A1A. Then you can also choose from oceanview condos or townhomes or true oceanfront condos or townhomes.
Which Way Are Jacksonville Beach Real Estate Prices Headed?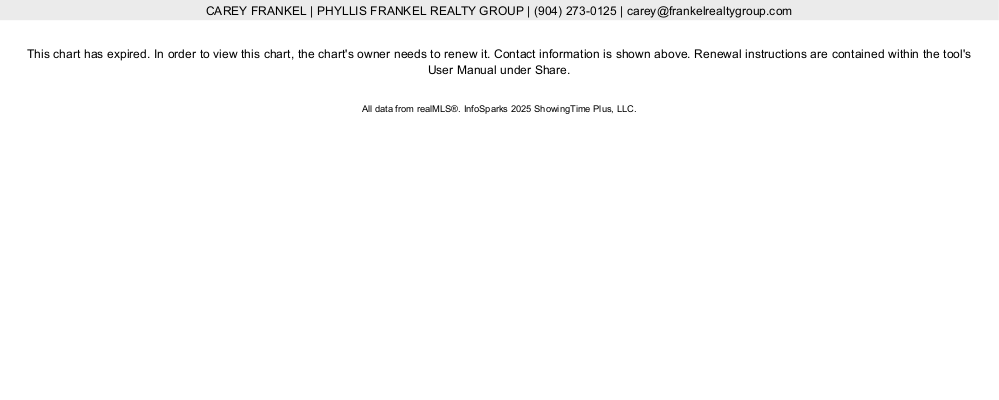 An upward trend line in the chart above means Jacksonville Beach real estate values are going up. And vice versa...

Are More Homes Coming On The Market in Jacksonville Beach?
An upward trend line in the chart above indicates more real estate is coming on the market in Jacksonville Beach. And vice versa... A long term increase in supply of homes will have a negative effect on appreciation if it pushes the absorption rate above the 6 month level.
How Long Do Homes Stay On The Market in Jacksonville Beach?
As you can see from the chart above homes in Jacksonville Beach don't stay on the market long. A steady trend upward would indicate a slowing in the market. And vice versa...
How Close to List Price Do Jacksonville Beach Homes Sell?
As you can see from the chart above home in Jacksonville Beach sell relatively close to list price. A steady increase in the sale to list price ratio would indicate a hot market and prices to rise in the future. And vice versa with a steady decrease in the sale to list price ratio.
Please contact us if you have any other questions about the Jacksonville Beach real estate market.
Top Jacksonville Beach Realtor
May Realtors were will the beach but few are real beach realtors. We live and work at the beach. We spend all our time in the neighborhoods, shops and restaurants at the beach. If you want true local insider information about Jacksonville Beach real estate then you should contact us. We can help with any of your Jacksonville Beach real estate matters.
Buying A House in Jacksonville Beach
Jacksonville Beach is unlike the other parts of Jacksonville. There are not many planned communities. So knowing the area and how values change from street to street can only be known by a true local realtor. If you want the knowledge and experience of a local Jacksonville Beach realtor on your side then you should contact us today.
Selling A Home in Jacksonville Beach
Being a local Jacksonville Beach expert means we have people looking to buy a home contact us all the time looking for a home like yours. So if you want to deal with a Realtor who has a list of buyers looking to get into Jacksonville Beach then please contact us.
Jacksonville Beach, Duval County, Florida
Jacksonville Beach, or Jax Beach as the locals call it, is a stunning combination of residential, commercial and resort communities within a 22 square mile area (7.7 sq miles is the land, the rest is 'wet'). In 1968, most of the individual communities comprising Duval County joined with Jacksonville, Florida. Jacksonville Beach, Neptune Beach, and Atlantic Beach opted to retain semi-independence. Akin the other small semi-independents, Jax Beach features its own city government; however, the residents do vote in the mayor election of Jacksonville. According to the US Census in 2004, the population is 21,353.
The City features beautiful miles of expansive beaches, fantastic fishing locations, delicious oceanfront restaurants, and boutiques. The Intracoastal Waterway flows beautifully throughout the town, giving you a full opportunity to enjoy the boating experience.
People who have purchased Jacksonville Beach real estate are lucky to enjoy the phenomenal weather and scenery afforded by this area. However, Jacksonville Beach has much more to offer than simply aesthetic pleasure. This community prides itself on being a full service area, with a plethora of municipal services such as water, electric, sewer, fire and police, to name a few.
From art galleries to beaches, trendy restaurants to fabulous oceanfront hotels, Jacksonville Beach real estate has it all. If you have ever wanted to own a slice of paradise, then this might just be the spot for you.
A Bit of History
The French Huguenots laid claim to the 'First Coast' in 1562, but the Spanish first settled the Jacksonville Beach area, establishing missions from Mayport to St. Augustine before ceding East Florida to the English by treaty in 1763. Of course, they got it back about twenty years later. In 1821, the Spanish ceded Florida to the United States of America.
The Jacksonville Beaches area has been inhabited since at least 1837, when Mayport was made a port, but it was not until 1883 that the Jacksonville and Atlantic Railroad established "Ruby Beach." Three years later, it renamed "Pablo Beach" and was incorporated as a town in 1907. The name was changed to "Jacksonville Beach" in 1925.
Oh, HOW You Can Play!
One of the most interesting places to explore is the Pablo Historical Park & Beaches Historical Museum. Rail fans will love the 19th century house that once was the station master's home on the Florida East Coast Railroad Terminal. A 28 ton steam locomotive excites the kids, while giving them a sense of history. Plenty of exhibits and an extensive archive complete the combination of education and fun. Walk on the Jacksonville Beach Seawalk, visit one of the Jacksonville Beach Parks or visit the Jacksonville Beach Pier for a daily afternoon jaunt in paradise.
Breathe in the fresh air, feel the sun and realize how long you've been looking for this town! Take the kids to Adventure Landing, and take adult time off at the Jacksonville Beach Tennis Center or Golf Club. Enjoy the modern and contemporary art in the galleries throughout the Jacksonville area.

A Great Place to Learn

Jacksonville Beach has four public schools, all affiliated with the Duval County Public Schools System. One school is a National Blue Ribbon school ranked among the top 100 elementary schools in Florida. Two of the elementary schools are magnet schools. Even the schools fit the Jacksonville Beach lifestyle, as one is dedicated to your Gifted and Academically Talented child, and the other focuses on Health and Fitness.

Your Income Goes Further in Jacksonville Beach Florida
The average household income in the Jacksonville area is $44,000, but median household income in Jacksonville Beach was 51,600 in 2005. With significantly higher average income, the area offers a surprise bonus: the cost of the average house in Jacksonville Beach is slightly below the area's average. Your income is higher, and it goes further!
Jobs are plentiful, too. In the general area, thousands of jobs are available every day. There are so many jobs that local residents are having difficulty filling the openings, and it's expected to remain this way at least until 2012. That's a lot of economic opportunity!
Nearby Communities
Great transportation keeps the communities connected. Residents protect that great beach environment though active use of a variety of trolleys, busses, and skyways.

A New Home in Jacksonville Beach: You Know you Want it!

Regardless of which of the beach communities you favor, the area is an amazing mix of old and new, traditional and modern. Every type of home that you can imagine is available in Jacksonville Beach, from sky rise condos to low-slung beach houses. You can choose a single family home, town homes, or the more social condo. Find a luxury home styled like a Spanish villa, or an English mansion. From $220,000 to $6 million, the choice is yours! Tell your Jacksonville Beach real estate specialist your dreams!
For more information, to view homes or if you have real estate questions please contact your Jacksonville Beach Realtor at (800) 999-0245 or locally at (904) 273-0125. Or leave us a message ...
©2019 Northeast Florida Multiple Listing Service, Inc. All rights reserved.
Listing information last updated on September 15th, 2019 at 10:08pm EDT.